The Dream Awakening (1978)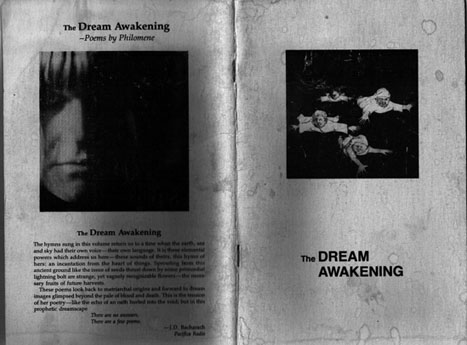 LITANY (She is the Mountains)
SHE IS THE MOUNTAINS
formed by cruel carvings,
her flesh burns with its bleeding,
Her wounds are blinding.
She has been fed by her nourishings,
Her breasts are stone,
Her rage is solid,
Her touch is not cold,
Her hands reach deep into the earth
to touch the Lip of balance,
She listens,
She will be heard.
-- Philomene Long
SHE
THE WHITE MIST
came over the sea
like seed
from an unknown god.
While over the smoothe sea
the grey gulls hung
motionless
in the thick air,
and the soft sea sung
she  she she
and the soft sea sung
as they stared at a small child
curled like a newborn
pushed from the sea.
-- Philomene Long