<< Back To List of Work with John Thomas
Bukowski in the Bathtub (2001)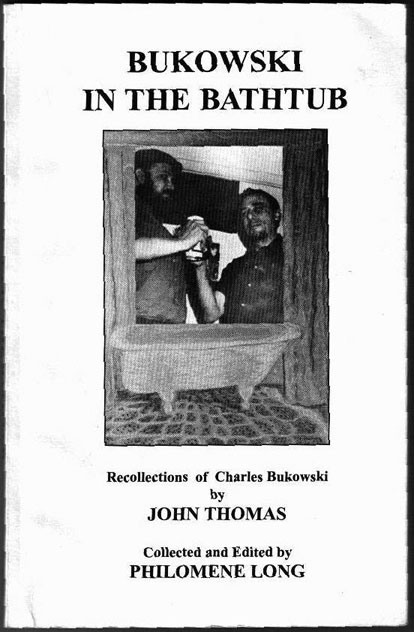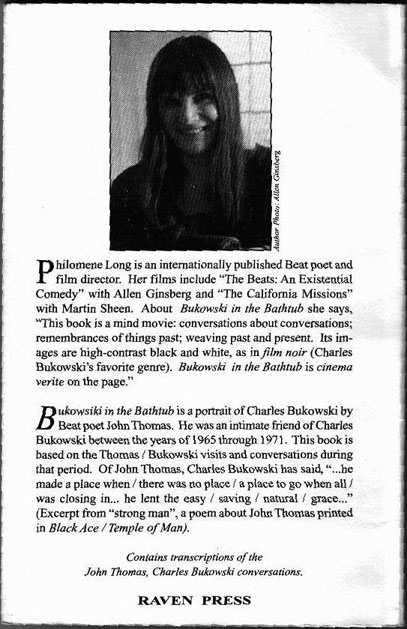 For over thirty years lost poems, photos, drawings, and audio taped conversations of Charles Bukowski and John Thomas were stacked in cardboard cartons in a basement in Echo Park beside a sewer pipe which broke, leaving the floor swimming in shit, then wedged in a hole in the ground under a house in Cypress Park, (a suburb of Los Angeles).

Before these cardboard cartons saw the light of day they lived among the resident cockroaches in Venice, California where we live.  Then on to Silver Lake where they survived when the hillside flooded into the garage where they were resting.  Back again to Venice, where for years the photos and tapes gathered dust in the back of our closet, the images and voices silent among our ghosts and mice, silent under our dirty laundry.  There they survived a fire in our apartment building, "The Ellison", heaped twenty feet away from the twenty-foot flames.

In March of l994, when Bukowski died, we pulled the cartons out.  When we opened the boxes the photos and drawings were dusty, the tapes a little gritty, preserved with an occasional cigarette ash or cockroach skeleton.  Some short bits of splicing tape had dried out and had to be fixed.  But the images, the voices, had quietly survived, rather sneered at leaks from the upstairs neighbor's overflowing toilet, the 1994 Northridge earthquake, lived silent with only the ghosts to watch and mouse ears to listen to them. 
Unpacked, again, finally the cardboard cartons sat in untidy stacks on our floor around our bed, gritty but ready at hand, ready for selective looking and listening while our conversations to times back across the dusty decades.

Digging through the boxes we uncovered extraordinary Bukowski material we had neglected for a long time: poems, essays, letters, photographs, drawings, and audio tapes from over three decades ago.  It was a time between the years 1965 to 1970 when Charles Bukowski, ("Hank," as he preferred to be called by his friends) showed up at John Thomas' door, sometimes four or five times a week, after his evening shift at the Post Office.  This was the agonizing and terrifying period of Bukowski's life before his explosion into world fame, before the rich final years with his wife Linda Bukowski.  In Charles Bukowski's personal history, it was a time when in Hank's words, "he made a place when there was no place to go, a place to go when all was closing in..."